Welcoming a newborn baby to the family can be challenging, especially if you're a new parent. There are often a lot of things you have to prepare and take care of before the baby comes, including your nursery. Unfortunately, preparing your nursery can be overwhelming, especially as there are a lot of decisions to make and options to choose from.
During times like that, it's always good to seek out the help of others. So if you're having trouble right now identifying all the things you need to prepare your nursery for your newborn, rest assured! We've got you covered.
In this article, we've compiled a list of essentials that every new parent needs to be able to ensure that their newborn gets the safest, most comfortable infanthood any baby could ask for.
1. Crib or Bassinet
The first choice every parent must make has to do with the baby's sleeping options. Are you going for a crib or a bassinet?
The main difference between the two is that a bassinet is made specifically for the first four months after the baby's birth. It's a small, mobile, and lightweight bed, usually with mesh or cloth sides.
Compared to cribs, bassinets can easily be situated next to your bed due to their smaller size. However, the main disadvantage of a bassinet versus a crib is that they're no longer safe for your baby after they reach a certain size or weight.
For this reason, cribs are often a better long-term investment. What's more, there are also convertible cribs that are part of baby room furniture sets that can last you years and years. These convertible cribs are capable of being transitioned and transformed into daybeds, and even full-sized beds, making them the perfect investment if you're looking to save up for when your baby grows past their toddler years.
2. Mattress & Beddings
When it comes to crib mattresses, you may want to choose one that's both breathable and easily washable. Breathability helps regulate your baby's temperature, making them feel extra comfy and cool. And choosing one that's washable makes it more convenient should the mattress get soiled or wet.
Should you choose to, you can also purchase a mattress pad to place over the mattress and protect it from accidents. Mattress pads are more convenient, as they're much easier to remove and wash compared to the entire crib mattress itself.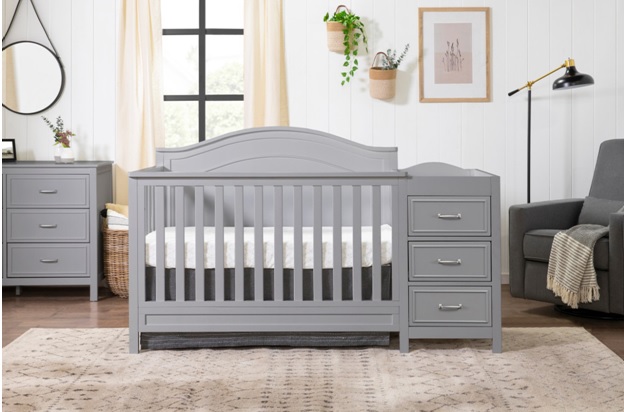 3. Dresser & Changing Table
While you're looking at baby room furniture sets, many sets often come together with a matching dresser or changing table. Sometimes even both.
Some cribs, such as the DaVinci Charlie 4-in-1 convertible crib & changer, can be considered a complete set in itself. It's able to be converted into a toddler bed, daybed, and full-sized bed, and it comes attached with drawers whose top also serves as a changing table. It's the perfect baby room furniture set to have if you're looking for an all-in-one option.
While many parents often end up not using changing tables all that much, and choose to change their baby's diapers on their beds, changing tables are perfect for those that struggle with back pains and problems.
4. Rocking Chair or Glider
One thing you'll be doing a lot during the first couple of months is feeding your baby. The great thing about having a rocking chair or glider is that it offers you a comfortable place to sit as your feeding. What's more, the rocking motion can be very helpful in putting your baby to sleep.
5. Nursing Pillow
Sometimes, a comfy chair isn't enough to make you or your baby completely comfortable. Sometimes, you'll still need some added support. That's where a nursing pillow comes in. A good nursing pillow gives you the support you need to properly and safely nurse your baby on your lap.
6. Swaddling Blankets
Managing and regulating your baby's temperature is important. You don't want them feeling chilly at night while they sleep, nor do you want them feeling to hot and sweaty. After all, an uncomfortable baby will only end up keeping you both awake through the night.
Choosing the right swaddle blankets means finding the right material that's breathable but can also help keep them warm while they sleep.
Always Choose Quality Baby Room Furniture Sets
Rather than look for all these items individually, choose instead to look for quality baby room furniture sets. That way, you'll be able to save yourself some time and effort going around picking and choosing your cribs, dressers, and changing tables separately.
Another great thing about choosing baby room furniture sets is that the pieces already match one another. This works very well, especially if you're aiming for a certain theme or aesthetic for your nursery.
If you're looking for quality baby room furniture sets, then, hop on over to our online store. As a family-owned business operating for over 36 years, we specialize in providing quality nursery and children's furniture. Every item on our website is assured to be able to give you and your family the safest and most comfortable experience you'll have during those early years in your child's life.
And if you're having trouble choosing between which sets to bring home, feel free to give us a call at (925)778-2229 so that we can personally help guide you towards making the right decision.