When it comes to designing our homes, we'll be the first to admit that our spending plan doesn't always match up with what we want. It's also challenging to make concessions when a new baby is on the way because you expect everything to be flawlessly adorable, secure, and stylish.
When expecting a child, the baby's crib and changing table are among the most crucial factors to take into account. You're going to need these two furniture pieces the most, particularly in the first year of your baby's life.
In the end, it's all about what's best for you and what works best for your lifestyle. That being said, this article is designed to help you get the best deal on the baby crib and changing table set that's simple to put together and can be purchased online.
Don't Compromise on Quality.
It's important to remember this when shopping for baby furniture. Invest in well-made items that will eventually become family heirlooms. Make sure the furniture you buy serves multiple purposes because it is a significant investment.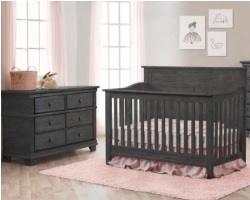 With a convertible crib, you don't need to buy a separate toddler bed when your child outgrows his or her crib. A structurally sound dresser can also be used as a changing table.
Our selection of baby cribs and changing tables sets will be featured in this article, which will include some of the best-priced options available. You don't need to worry about anything else because we have everything you could possibly need for your nursery bedroom right here.
When it comes to cribs, the Potenza Flat Top Forever Crib is a beautiful, welcoming, and long-lasting option. The crib's groovy arched arms and classic straight beams are a cute homage to the balance between time-honored legacy and state-of-the-art design.
While the Pali Potenza Double Dresser has a classic look, it has been given a contemporary makeover. If you're looking for a piece that can go with a variety of Pali Design collections, this is the one for you. Putting an additional changing pad on top of this dresser will allow you to convert it into a table that can be used for changing diapers.
Safe and Comfortable.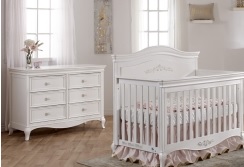 Because babies spend the majority of their time in their cribs, it's critical that the space be safe and secure. It's best to stick with companies that make their products with a non-toxic finish that doesn't contain any lead or other potentially harmful materials.
There should be no drop-sides in your crib, as they pose a serious safety risk to your child and should be avoided at all costs. Also, adjustable mattress heights and slats that are less than 2 3/8′′ apart will keep your baby's head or limbs from getting trapped in the crib as they grow.
To maximize your options, look for a crib with the option to convert to a toddler or full-size bed.
A good reason to do this is if you're purchasing a bedroom set and want the bed to match the rest of the furniture in the room. A dresser is a must-have for baby's essentials, and if the space permits, choose one that can accommodate your child as they grow.
It's fortunate that we have the Pali Diamante 2-Piece Nursery Set, which consists of the Diamante Double Dresser in Vintage White and the Diamante Convertible Crib with Decor Panel. The crib is designed to transform from a crib into a toddler bed, a day bed for a child, and eventually into a full-sized bed as the child grows older.
When it comes to Pali products, you can rest assured that the attention to detail and high level of craftsmanship that goes into each one will stand the test of time.
Opt for a Baby Crib with a Changing Table.
If you have never heard of baby cribs with changing tables, you should be aware that they are a very useful way to provide a sleeping space for your child.
It's also a place to do things like change a baby's diaper.
They are especially helpful if you are expecting your first child and are finding it difficult and time consuming to acquire all of the necessary nursery items separately. In this case, they can save you a lot of hassle and stress.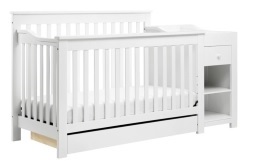 A baby crib with a changing table eliminates the need for a lot of time and effort spent transferring the infant from the bed to the changer. The best part is that you can easily access all of your baby supplies at arm's reach.
The adaptable Piedmont 4-in-1 crib is now offered as a crib and changer combination that parents can purchase as one single furniture piece. This crib offers lots of storage space for all of the baby's belongings, with a big drawer just below the crib and a changing table with one small drawer and two roomy shelves.
So, now that you've seen some of our best options for baby cribs and changing table sets, I want to emphasize that your child's safety is the most important consideration. Stop by Kids N' Cribs for any and all of your nursery furniture needs.