It's a happy and momentous event to get the house ready for the arrival of a new baby. Your baby's nursery should be a secure, comforting place for your child, while also meeting your needs as a parent.
There is no limit to the amount of joy and originality that may be infused into a nursery's preparations. Wood Crib With Changing Table, as well as some other suggestions for the nursery's overall style and color scheme.
Explore in Complete Safety
Nursery safety is of paramount importance, even more so than the nursery's decor. Solid wood flooring easily meets this standard. There are a number of reasons why this flooring is ideal for nurseries and playrooms with young children.
Unlike carpet, hardwood flooring can withstand accidental spills with minimal damage. Wooden flooring also doesn't hold in odors the way carpet does. Allergy-prone infants can benefit greatly from this.
For the sake of their development, newborns should crawl around on wooden flooring. They're at the age where parents need not micromanage their every move as they learn to crawl and wander. Any wear and tear on your wooden floor may be easily remedied by sanding and applying a new coat of finish.
Intelligent Space Management
There are various things that must be provided for infants. Clothing, toiletries, playthings, and blankets of all kinds. A nursery may quickly become disorganized and congested if you don't give everything a specific home.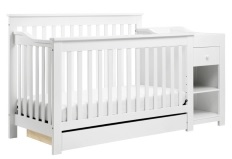 Keep your essentials within easy reach of the changing table. Thus, by perusing our collection of Wood Cribs with Changing Tables, you'll be able to envision not having to leave your child unattended in order to fulfill their needs.
One such example is the crib and changer combo version of the practical DaVinci Piedmont 4-in-1 crib. With a huge drawer below the cot and a changing table with one small drawer and two roomy shelves, this crib provides plenty of storage space for all of the baby's possessions and enables you to create a system for organizing your baby's clothes and toys.
Wood Aesthetic Brings Rustic Charm
Yes, indeed! The sleek, minimalistic vibe that high-quality wood furniture brings to a baby's room is perfect. The combination of a strong wood crib with changing table is a perfect illustration of this concept.
Consider purchasing a set rather than searching for individual pieces that are "nearly" the same design. Case in point: the Stella Baby Remi 2 Piece Nursery Set, which has a beautiful convertible crib and a double dresser for an instant coordinated look in the nursery. In addition to its practical benefits, solid wood has a beautiful, natural look that may be used to bring a sense of nature within.
Opt for a Neutral Palette
A classic and sophisticated vibe may be achieved when creating a nursery with a muted color scheme. In fact, using a neutral nursery color scheme might give the room a surprising feel.
If you want to avoid gender preconceptions, a gender-neutral color scheme is a terrific choice for a nursery since it provides for adaptability and adjustment.
Brighter hues, such as yellow or orange, might be used as accent colors. These are fantastically contrasting color schemes that would look excellent in a nursery or any other area in the house.
It's an alternative that may add a pop of color without being too garish. A wide variety of other hues will also work with this color scheme, giving you a lot of leeways when accessorizing the space.
A Mother And Baby Nook
Starting a habit or interest with your kids is always a good idea. Learning and bonding with your infant can be facilitated via reading. Start them young. Even if they are just a few months old, you should start reading to them.
One thing to keep in mind while designing a nursery is that it will soon become a toddler's playroom. This means considering elements like reading corners and convertible wooden cribs that can be used even when your youngster gets older. Once your baby hits the toddler years, it will be difficult to start over from square one.
Always Consider Safety Above Anything Else.
No matter what kind of Wood Crib With Changing Table you choose for your nursery, know that the safety of your kid is your top priority.
Babies, especially brand-new ones, spend a lot of time dozing. The crib is the only location you will ever leave your kid alone, thus it must be built to the highest safety standards.
It's crucial to think about how old the crib is. Fortunately, all of the Wood Crib With Changing Table options we sell meet the most recent recommendations for crib safety.
For more information, visit our website or give us a call at (925)778-2229 to speak with a customer service representative.