When it comes to buying a crib for your baby, there are plenty of options available to you. From big-box retailers to online marketplaces, there are plenty of places to find a crib that will suit your needs. However, many parents are turning to specialty baby crib stores for their purchases, and for good reason. In this blog post, we'll explore the advantages of buying from a specialty baby crib store, and why it's worth considering for your next purchase.
1. Knowledge & Expertise
One of the biggest advantages of buying from a specialty baby crib store is the level of expertise and knowledge that the staff will have. These stores specialize in baby cribs, which means that the staff will be well-versed in the different types of cribs available, as well as the features and benefits of each one. This knowledge can be invaluable when you're trying to make a decision about what crib to buy. You'll be able to ask questions, get advice, and make an informed decision about which crib is right for your baby.
2. Wide Variety & Selection
Another advantage of buying from a specialty baby crib store is the variety of options available. These stores will typically carry a wide range of cribs, from traditional wooden cribs to modern, convertible models. They may also carry a variety of accessories, such as crib mattresses, bedding, and more. This variety will give you more options to choose from, which is especially important if you're looking for something specific, like a crib that will fit in a small space.
3. Better Customer Service
Specialty baby crib stores also often offer a higher level of customer service. Since these stores specialize in baby cribs, they are more likely to have a dedicated staff that is trained to help customers make informed decisions. They may also offer services like assembly and installation, which can be a huge help for busy parents. Additionally, they may have a more flexible return policy if something is not quite right or you change your mind.
4. Sustainable Options
Furthermore, specialty baby crib stores often carry eco-friendly and sustainable options. They are more likely to have cribs made with sustainable materials, such as organic cotton or sustainably-sourced wood. They may also offer cribs that are designed to last, such as convertible cribs that can be used as a toddler bed or full-size bed. These eco-friendly and sustainable options are becoming increasingly important to many parents and it's nice to have a store dedicated to that.
5. Customization Options
Specialty baby crib stores also provide the opportunity to purchase unique and customized cribs. They may have a selection of handmade cribs that are unique and one-of-a-kind. They may also offer customization options, such as painting or staining a wooden crib in a specific color or finish. These unique and customized options can make your baby's crib a special and meaningful piece of furniture.
6. Supporting Small Businesses
Lastly, buying from a specialty baby crib store often helps to support small businesses. These stores are typically owned and operated by local entrepreneurs, and by buying from them, you're supporting your local economy. Additionally, many specialty baby crib stores are dedicated to providing a high-quality product and excellent customer service, which helps to maintain the reputation of the store and the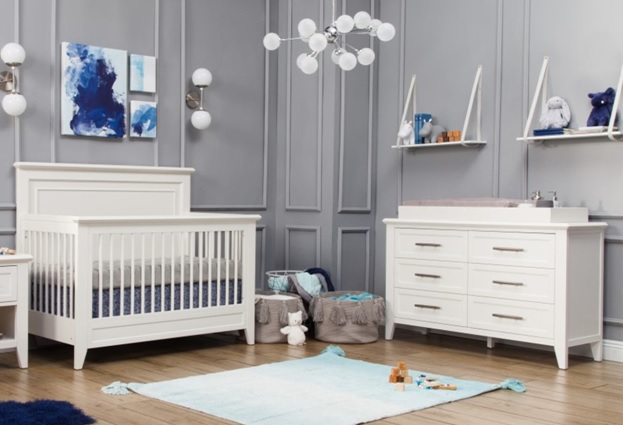 Quality Kids Furniture Maker You'll Often Find at Specialty Baby Crib Stores
When it comes to furnishing a nursery, there are a few big names that come to mind. These furniture makers have earned their reputation as some of the best in the business, and they have a wide variety of styles, materials, and designs to choose from. If you're looking for quality nursery furniture, here are some of the most popular makers whose nursery furniture sets you'll find available in our store.
1. DaVinci Baby
This brand has been around since 1990 and is known for their high-quality, stylish furniture. They specialize in convertible cribs, but they also offer dressers, changing tables, and gliders in a variety of styles and colors. DaVinci is especially popular for their high-end, elegant designs, which can be customized with a variety of finishes and hardware.
2. Babyletto
In the same vein, we have Babyletto. This furniture maker is known for their modern, stylish designs, which are perfect for contemporary nurseries. They offer a variety of cribs, dressers, changing tables, and gliders in a range of colors and finishes. Babyletto is especially popular for their convertible cribs, which can easily transition from a crib to a toddler bed, daybed, or full-size bed.
3. Franklin & Ben
One of the things that makes Franklin & Ben nursery furniture sets so popular is their durability and longevity. Another popular feature of Franklin & Ben furniture sets is their timeless design. The furniture has a traditional and elegant look that will complement any nursery decor. The furniture is designed to be functional and versatile, with many pieces featuring ample storage space for all of your baby's essentials.
The Best Nursery Furniture at the Best Baby Crib Stores
Shopping around for the right nursery furniture can be daunting and difficult without seasoned experts to help guide you through the process. Thankfully, at Kids N Cribs, we understand that choosing the right crib is an important decision. That's why we take the extra time to make sure our customers get the perfect crib for their little one. Whether you're looking for safety, durability, style, or expert advice, we're here to help. Visit our online store today to find the perfect crib for your baby!