It's a thrilling adventure to get your house in order for the arrival of your newborn. This includes the process of selecting a crib. The crib dresser changing table set is all the rage these days and provides every convenience a parent could want for their infant.
If you want the nursery's décor to be consistent throughout and you're on a tighter budget, a crib dresser changing table set may be the best option for you.
There's a good reason why these sets are so popular among households. When purchasing a new home, many parents place great importance on having matching furnishings. A nursery without it would be insufficient. This article will examine each component and explain its value to your nursery.
Benefits of a Baby Crib
Since infants can't tell you if something is wrong while they're asleep, it's your responsibility to keep them safe. Without a doubt, you were going to purchase at least one, regardless of whether or not it was included in a set. For this reason, many parents give serious thought to this piece of furniture before purchasing anything else for their infant.
At Kids N Cribs, we only have high-quality baby cribs that will leave you feeling confident in your child's safety even when you're not there. There are regulations and guidelines in place to ensure the safety of cribs, and we make sure that what we have in our collection is constantly up to date.
Healthy development is aided by the 16-hour sleep pattern typical of infants. The best way to ensure that your baby has a restful night's sleep is to put them in a crib in a quiet room. When shopping for a crib set here at Kids N Cribs, it's important to make sure the mattress and sheeting are both suitable for your baby's comfort.
Benefits of a Changing Table
It's true that changing tables have only been around for a short while, so you might not believe it's absolutely necessary to have one. But if you give it some thought, you'll realize that it's a piece of furniture you'll use at least eight times each day for the next two years and that it may be rather useful.
In this way, you can change baby diapers at a level that's easy for you. This is a great plus, as it's really taxing on the back and knees to change a baby on the floor or bed.
A changing table might be really beneficial for your health in this situation because you'll be changing your kid multiple times a day, every day, which may place a lot of strain on your knees and lower back.
The crib dresser changing table set is convenient since it includes a changing table to facilitate diaper changes. Your baby may relax in comfort, and you can store all the necessities, such as diapers, wipes, and an extra outfit, within easy reach.
Benefits of Nursery Dressers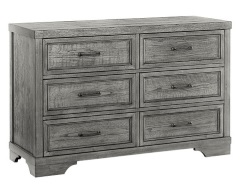 The clear advantage of a dresser is the extra storage space it provides. When there isn't enough room in the closet, a set of drawers is the next best thing.
Everything, from clothes to diapers, may be stored neatly in this way. As part of a crib dresser changing table set, a dresser may help you keep track of your baby's growing wardrobe and make it easy to find what you need when you need it.
It's crucial that you get high-quality pieces for the baby's nursery. It's worth it to invest in excellent furniture so that it may be used for many years. A chest built from sturdy wood like walnut or cherry, and well assembled with quality hardware like drawer slides, will be well worth the additional investment in the long run.
For example, the Westwood Design Foundry Double Dresser is constructed with solid wood drawer boxes fastened with English dovetails to provide ample space for keeping all of the baby's requirements organized and out of the way.
If you buy a good dresser for your child when they are young, they may be able to take it with them when they leave home at the age of eighteen, reducing the frequency with which you will need to replace their furniture.
After learning the features and benefits of a crib dresser changing table set, you can begin your search for the ideal piece of furniture for your baby's room. Kids N Cribs has a ton of different brands and products that you may go through.
Here at Kids N Cribs, we offer more than just a wide variety of baby furniture; our staff also provides helpful guidance based on an awareness that each family has unique needs and financial constraints. We'll do our best to track down the products you require at a rate that meets your budget constraints.
Find the perfect crib and matching furnishings for your baby's nursery at Kids N Cribs.