You may save a lot of room and money by purchasing a Crib Changing Table Set. The majority of them provide additional storage in the form of drawers or open shelves. What could be better? As your child develops, you may remove the changing table and use it as a regular bedside table. This way, your child is still able to keep a memento that has been a significant part of his or her first few months as a baby.
When shopping for baby cribs, safety should be your top priority. It is essential to choose baby crib furniture that complies with all current safety regulations. When shopping for baby cribs, it's a good idea to look for furnishings that can be used as your child gets older. The key to creating a baby-friendly environment is to know what to look for and how to include it in your design.
Aesthetically pleasing and Baby-Safe
Perhaps you are a new parent or are about to become one. Because of this, you'll be responsible for making sure that your new baby's nursery meets your needs as well as theirs. If you're decorating a nursery for your child, one of the best parts is getting to choose the right furniture items that are not only aesthetically pleasing but also baby-safe for your little one.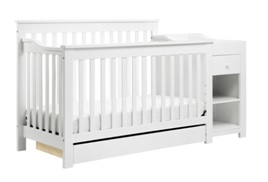 Our clients adore the DAVINCI PIEDMONT 4-IN-1 CRIB AND CHANGER COMBO, which is one of the highest-rated cribs and changers on our list—a changer with one drawer and two open shelves for easy access. The PIEDMONT, in our opinion, is excellent value for the money.
The PIEDMONT is available in white, slate, and hazelnut, perfect for a more colorful aesthetic, all in a traditional style. The toddler rail and the full-size conversion kit are available separately for this convertible crib. A safety strap-attached changing pad is included with the changing table. As a result of its nonstandard size, you will be unable to utilize a nontoxic changing pad from a third party.
Storage, Storage, Storage
Choose a changing table with storage baskets, drawers, and shelves so that you can conveniently keep all of your baby's necessities, such as diapers, ointments, wipes, powder, and toys, in one place. The good news is that some baby furniture retailers, like us at Kids N Cribs, provide crib changing table sets, making it easier and more cost-efficient for parents to acquire all of the necessary furnishings in one go instead of separately.
While changing your baby's diaper anywhere in the house, you may discover that you are short on a specific item. Having to frantically search the house for everything you need while your kid is on the floor—diaperless—is just the worst possible scenario. You can swiftly and efficiently change your baby's diaper if you have everything you need on your changing table and have enough storage to store it all. In particular, this is beneficial for newborns who struggle to have their diapers changed because of their fussiness.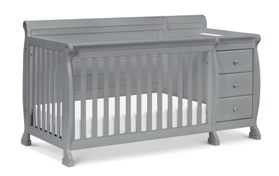 Full-size crib and changer in one: the DAVINCI KALANI 4-IN-1 CRIB AND CHANGER COMBO. There are three height settings for the mattress so that your baby may snooze on it until he or she reaches 35 inches. Most toddlers are able to get out of their cribs at this point.
When your child outgrows a crib, you may easily transform it into a full-size bed. There are three drawers in the changer, and a suitable pad is included. The changing table is above three compact drawers that can contain all the gorgeous baby clothing and accessories.
When it comes to Davinci's changing table, it's meant to withstand the test of time thanks to features like reinforced drawer bottoms. Because of the JPMA certification, you can be certain that the crib or bassinet your child will be sleeping in will be secure.
Time and Cost-Efficient
Now that you know exactly what you and your baby need from a changing table, it's time to begin searching for one. Ideally, you should seek one online since it is more convenient and accessible. It's easy to locate a wide variety of changing tables and read several testimonials from other parents while shopping online for a baby changing table.
Consider purchasing some baby furniture sets. That might save you both time and money. You'll find a wide selection of crib changing table sets and separate pieces at Kids N Cribs.
The iconic Autumn Crib from DaVinci is now available as a crib and changer set that includes everything you need for your new baby in one convenient location. In addition to being aesthetically pleasing, the changing table may be used as a nightstand as your child develops.
Three large drawers provide additional storage and organizing space. Because of its classic style, it'll last for many years to come. When your baby is ready for a toddler bed and beyond, you can rest easy knowing that this durable crib will be there to support them.
We at Kids N Cribs know how important it is to provide your child with the greatest and safest furniture available. We want new and seasoned parents alike to have a pleasurable time outfitting their baby's nursery with our crib changing table sets and other baby furniture. Visit our website at kids-n-cribs.com today.