If you're expecting your next child or if you're a first-time parent with no prior knowledge of nursery design, this blog is for you. In any case, choosing a baby nursery furniture set that is appropriate for your family's requirements can benefit you in the long term.
The Importance of Making Informed Decisions
Once you have a Baby Dresser And Changing Table set up in your house and your new baby has arrived, you are going to spend a lot of time in that nursery and using that table. It will become a part of your life.
In a nursery, a piece of furniture may either harmonize with the rest of the décor or detract from it. It may grow together with your kid, or it might cause problems. It may either provide you with more space, or it might restrict you. Cohesion will be established not just in the nursery room but also in the rest of your house if you get the baby dresser and changing table as a single item rather than purchasing each component separately.
Kids N Cribs is here to ease the transition into motherhood for you and your partner. You can get everything from cribs to high chairs to clothing to car seats at our store for expectant parents. Because we only sell high-quality items from well-known manufacturers, you can relax knowing that you're obtaining only the finest for your new baby.
Everything that you and the baby will require should be in the baby's room while decorating it. Everything must be both beautiful and useful at the same time. In the case of baby dressers and changing tables, diaper and wardrobe changes are often required. There are a variety of designs and features to choose from when it comes to dressing tables for newborns.
UNIQUE STYLE OPTIONS ARE AVAILABLE
Additionally, these tables come in a variety of forms to match any nursery's aesthetic and functional needs. When it comes to your baby's room, there is a changing table to fit whatever style you have in mind.
Traditional-Style Changing Table
A traditional-style changing table is always a safe bet for parents. A more compact form, both in terms of weight and overall construction, means that it won't take up much space in your nursery. It's possible that they have had enough storage with the two shelves under the changing tray, or they may feature pull-out drawers similar to a dresser. Traditional changing tables, on the other hand, may be found in almost any room and provide enough storage space for diapers, wipes, and other essentials.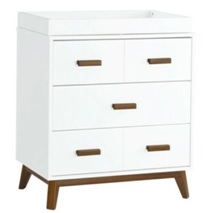 Innovative Style
Modern changing tables are a great way to update the design of your baby's nursery without having to remodel. A wide range of designs and functions are available for them. Aside from the fact that most of them have a similar style, they all include safety rails, detachable changing trays, and lots of storage space in the shape of drawers or baskets. There are even some that come with built-in hampers for simple laundry disposal.
Is buying a Baby Dresser And Changing Table worth the money?
First-time parents are often uncertain if it is worthwhile to spend money for new changing tables for their babies during the first year or two of their children's lives. However, a diaper-changing may be a much more pleasant experience if you have a simple, spacious dressing table to work with.
With a large family, the changing table may be utilized again. It will continue to perform a variety of functions long after the youngster has outgrown the need to keep items beneath it.
Our dressing tables are available in a wide range of styles, so you'll want to choose the one that best fits your baby's needs. As a consequence, you can relax knowing that our changing tables are risk-free for both you and your baby.
Product safety is our priority, and we only offer brands that have been certified as meeting all relevant safety rules and guidelines. The key thing to remember is that your infant should never be left alone on the changing table without adult supervision. You must always keep a close check on your child no matter how little or helpless they may be.
Measures You Cannot Ignore for Your Safety
The most important thing to remember while changing a baby's diaper is to use safety precautions at all times. For safety reasons, you will need to use a changing table that is higher than the height of your baby's feet to complete the task.
Find a changing table with a safety strap to keep your baby from falling off and hurting themself while you're changing them. Safety rails may be added to changing tables to protect your squirmy infant from wriggling around too much.
The changing pad on a changing table is a must to provide optimal safety and comfort for you and your baby. Changing a baby on a hard, flat surface isn't the ideal situation. Their heads and necks will not be properly supported by this. When you're changing your baby, an ergonomically designed changing pad will make the process more comfortable for both of you.
Just why is Kids N Cribs a good option for nursery furniture shopping?
At Kids N Cribs, we recognize the importance of providing your child with the safest and most comfortable furniture available. With so many factors to consider when purchasing nursery furniture, it's important that parents, whether they're first-time buyers or seasoned pros, have a positive experience.
It might be difficult to choose the ideal Baby Dresser And Changing Table for you and your child among the many available alternatives. Think about what's best for you and your family and don't rush the decision-making process. We'll walk you through the whole process of finding the ideal furnishings for your baby