Exciting times are ahead as you choose your nursery's furniture. Your child's bedroom is a sacred space, and every detail, from the paint to the bedding, must be selected to perfection. An infant's room should be soothing and comfortable while still reflecting the parents' aesthetic.
The arrangement of the space should be one of your first considerations when designing a nursery. Make a mental floor plan of the room, marking the spots for the various pieces of furniture.
Never purchase furniture without first measuring the space it will occupy. The same holds true for the nursery's décor and vibe. It might be a huge mistake to equip your baby's room with furniture that clashes with the existing décor and color scheme.
As with any major purchase, there are a lot of factors to consider while shopping for a baby nursery furniture set. The ideal dresser would have enough storage for all of your garments and accessories yet still take up little floor space.
To ensure that your baby has a restful night's sleep, the crib you choose should be both secure and snug enough for your infant to feel comfortable in. When it comes down to it, you should also consider what supplementary pieces of furniture you would want.
Picking Out a Baby Crib
Practically each nursery set will feature a crib, but the challenge lies in settling on the right style. A convertible crib is an option if you want a sleeping space for your kid that can be used well into their toddler years.
Some of the furniture bundles we provide include convertible cribs that can be easily transformed into toddler beds. It is understandable that you will want to be able to get a good night's rest with the knowledge that your child is in a secure environment.
Because of this, it is essential that you get a crib that is well-built and made of appropriate materials to avoid any unpleasant surprises. We only sell high-quality, well-constructed, and long-lasting items of furniture, and our cribs are no exception.
There is a wide variety of materials that, in addition to being aesthetically pleasing, also come in a variety of compositions. There is such a wide variety of incredible materials available to pick from, and some examples include solid beechwood and New Zealand pine wood.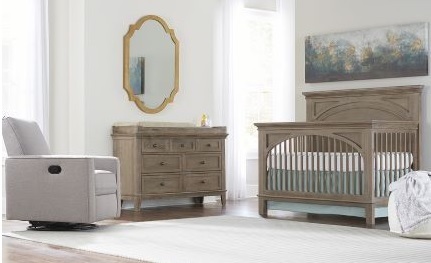 Concerning yourself with the crib's finish should be your final resort. Many of the sets of furniture that we sell may be customized with one of many available finishes, making it easy to find an ideal fit for your nursery's aesthetic needs.
You shouldn't purchase baby furniture online if it won't go with the existing decor. Your infant's room should be entirely harmonious.
When Choosing a Dresser
When you buy a baby nursery furniture set, you save yourself a lot of time since you don't have to worry about matching and coordinating different pieces of furniture in your child's room. This is one of the main benefits of buying a baby nursery furniture set.
Finding the ideal piece of furniture may be challenging enough, let alone trying to track down complementary pieces. When you purchase a matching dresser, crib, and changing table as part of a set, you can be certain that everything will look great together.
Choosing a dresser is similar to choosing any other piece of furniture; you want it to be sturdy and reliable, and it has to have a great finish to complement the rest of your decor. If you're shopping for a bedroom set, it's important to consider how many drawers and how much storage space you'll need in the dresser.
Dressers with as many as seven drawers are available for those in need of extreme organization.
Is There Anything Else You Require?
Accessories are the last consideration when purchasing a furniture set. Baby nursery furniture sets might comprise as few as two items or as many as six. Depending on your budget and the available space in your baby's room, you may need either a compact or a sizable collection of furnishings.
Most of your baby's newborn period will be spent in the nursery. It's important to have enough support when breastfeeding your infant, and padded seats do the trick. The soothing rocking action of a rocking chair will have you both drifting off to sleep in no time.
If you're searching for a whole set of baby furniture, including a dresser, crib, and nightstand, Kids N Cribs is a good place to start. If you have a preference for a certain manufacturer, you may narrow your search for a furniture package on our site by tapping on that manufacturer's name.
If you already have a color scheme and theme in mind for your child's nursery, you may narrow your search by selecting the desired finish. The goal of our store is to provide you with the easiest buying experience possible.