Are you looking for that perfect rustic style furniture to include in your new baby's nursery? Finding the perfect baby nursery furniture set can be daunting, especially if you're torn between the many different choices available.
Not only does it need to be comfortable and safe, but it should also fit into the overall look and feel of the room. From color and design to the type of materials used. However, the fact that you're here says that you're looking for a very specific style of furniture: the rustic type.
To that end, we've put together this guide to help you choose between some of the many different rustic baby nursery furniture sets that are available in the market. We'll introduce you to some of the best nursery furniture makers as well as which sets and packages are absolutely worth your time and investment.
What is Rustic Furniture and Why Choose it?
Rustic furniture is a style of furniture that is characterized by its natural, earthy, and rugged appearance. It is often made from reclaimed or natural woods, such as pine, cedar, or oak, and may feature natural knots, cracks, and other imperfections that add to its rustic charm. This style of furniture is often associated with the cabin or country aesthetic and can be used to create a warm and inviting atmosphere in any room of the home.
Rustic furniture is not only beautiful and unique but also eco-friendly, as it is often made from reclaimed or salvaged materials. This means that it is not only good for the environment, but it also has a story to tell, adding character and history to your home and, most especially, your nursery.
That said, here are a few rustic nursery furniture sets that we highly recommend: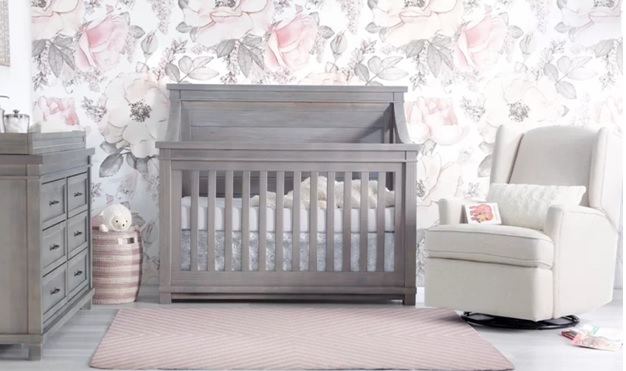 1. Baby Appleseed Rowan 3 Piece Nursery Set
The Baby Appleseed Rowan 3 Piece Nursery Set is made from high-quality American Poplar Wood that's designed to last you years! It includes a convertible crib, a 6-drawer dresser and a changing tray.
The convertible crib can be converted from a crib to a toddler bed, a daybed and a full-size bed, so it will grow with your child. The dresser, on the other hand, has 6 spacious drawers, perfect for storing clothing, linens and other nursery items.
Baby Appleseed is a brand of nursery furniture that is known for its high-quality, eco-friendly and sustainable design. The brand focuses on creating furniture that is safe, durable and stylish for babies and young children. The pieces are made from sustainable materials, such as solid American Poplar Hard Wood, and the company also makes an effort planting trees to encourage sustainability.
The brand is a popular choice among parents who are looking for furniture that is both functional and stylish, and that also has a positive impact on the environment.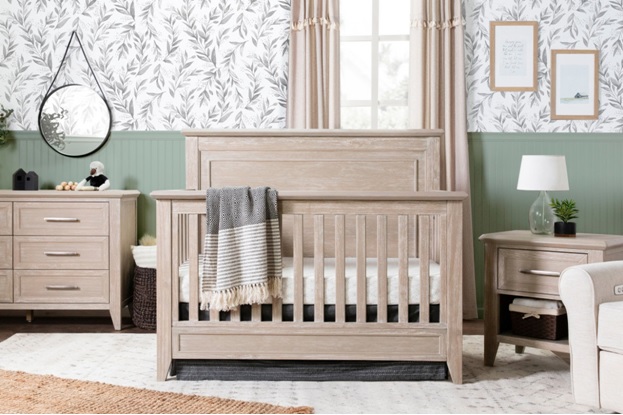 2. Franklin & Ben Beckett Rustic 3 Piece Nursery Set
The Franklin & Ben Beckett Rustic 3 Piece Nursery Set includes a crib, dresser, and nightstand, all done in a sandbar finish. The crib is made to outlast your baby's infancy and beyond, with a four-in-one design that easily converts to a toddler bed, day bed, and full-size bed. The crib also features a four-position adjustable mattress support, so you can adjust the mattress to the perfect height for your baby as they grow.
The dresser of the Franklin & Ben Beckett Rustic 3 Piece Nursery Set is just as impressive. It has six spacious drawers with metal drawer glides, so you can easily store all of your baby's clothes, blankets, and more. The nightstand, on the other hand, provides even more storage with a drawer and extra shelf for additional storage options.
The entire set is made from solid wood and veneers, making it a sustainable and eco-friendly choice. The rustic finish is sure to bring warmth and charm to your baby's nursery.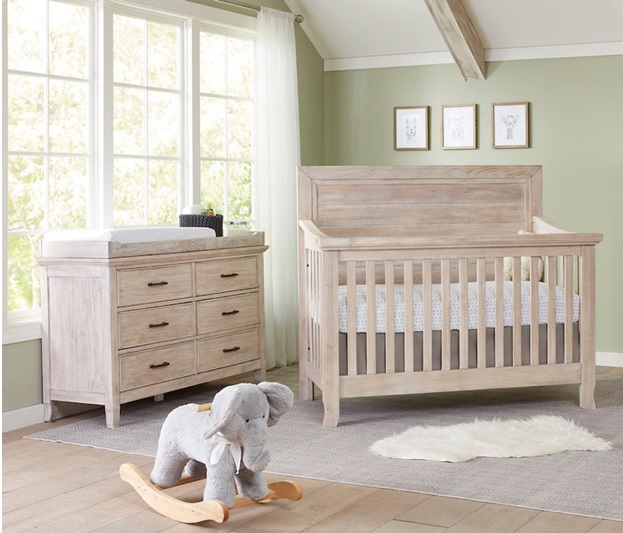 3. Stella Baby & Child Remi 2 Piece Flat Top Crib Nursery Set
The Stella Baby & Remi Child 2 piece flat top crib nursery set is another perfect choice to go with. It features a flat convertible crib that transforms into a toddler bed, toddler day bed, and a full sized bed, which is perfect for modern or minimalist style nurseries.
The set also includes a six-drawer dresser that's made from solid wood and is secured with English dovetails. If you want, you can also include a couple of add-ons, such as the matching changing table that you can attach to the top of the dresser, or the matching bookcase/hutch if you prefer the extra storage.
Factors to Consider When Choosing Your Baby Nursery Furniture Set
1. Budget
First, consider your budget. Determine how much you're willing to spend on the nursery furniture set and stick to it. You don't want to end up with buyer's remorse after you've already invested in a set.
2. Style or Theme
Next, think about the style of the furniture. Do you prefer a traditional look or something more modern? Are there any specific colors or patterns you'd like to incorporate? Take your time and find something that you truly love.
3. Safety
Once you've narrowed down your choices, it's time to think about safety. Make sure the furniture meets all safety standards and doesn't have any sharp edges. If you're purchasing a crib, make sure it has adjustable mattress heights and a secure locking system.
4. Space
Finally, once you've found the perfect set, make sure to measure your space. You don't want to get the furniture home only to find out it doesn't fit in the nursery.
Ultimately, baby nursery furniture sets are a great investment for parents, as they provide a safe and comfortable space for their babies to sleep, play, and grow. With a wide range of styles, materials, and price points, there is a nursery furniture set to suit every parent's needs and budget.
If you're not sold on the whole rustic feel, however, feel free to take the time to consider all your options. From wood to metal to plastic, there are a variety of materials available, so you're sure to find something that fits your needs and budget. At Kids N Cribs, we have a wide selection of furniture made from safe, non-toxic materials, so you can be sure your little one will be safe and comfortable.