It requires imagination to decorate a nursery, especially if the room is the size of a standard closet in a townhouse. Smart nursery furniture sets and a determination to make the most of limited space ensure that even the tiniest of nurseries seem spacious and inviting to a new little person.
Don't be discouraged if your baby will be sleeping in the same room as you, in a corner of the guest bedroom or home office, or in a tiny nursery. With a little ingenuity and preparation, you can make the world more welcoming and comfortable for your newborn.
Share Your Bedroom with the Baby
If you don't have a spare room to convert into a nursery, you might have to settle for having your kid sleep in your bedroom. It's as simple as adding small, two-piece nursery furniture set to a spare bedroom, either in a corner or close to the sleeping area.
The top of the dresser in the nursery furniture set you bought may serve as a changing table; just add a changing tray, and you're all set! You've got yourself a diaper changing station for your bubba.
Choose Mini Cribs.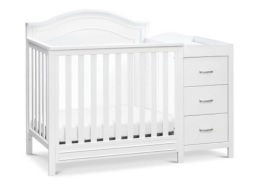 Looking for a conventional crib without the conventional size? Think about getting a mini crib.
At Kids N Cribs, we provide a wide selection of cribs in a number of sizes and styles to accommodate homes of varying dimensions. Mini cribs are an excellent option for those who need a snug sleeping area for their child but whose nursery is limited in square footage.
However, DaVinci's Charlie 4-in-1 Mini Crib & Changer is an excellent choice for parents who need smaller sleeping spaces for their infant for the first two years. You may save money by not purchasing an extra piece of furniture (a changing table or dresser) for the nursery if you choose a set.
Tiny Nurseries Need Skinny Rockers
Having a large, comfortable rocking chair is nice, but it might be inconvenient if you're tight on space. If you need a rocking chair but have a small nursery, the Margot rocking chair by Dutalier is a great option since it is both slim and comfy, making it perfect for those early cuddles with your new baby.
Take a Chance
Making a bold statement in a compact area may seem contradictory, but it may really help bring the space to life. It's simple to execute with the help of eye-catching elements like artwork or a statement arc floor lamp. They make a bold proclamation and determine the tone and colors of the room.
Build a Baby Room in a Closet
If your nursery is on the smaller side, every square foot is important. The trend of creating nurseries in closets is popular among city dwellers who live in modest dwellings.
A walk-in closet is ideal for storing a two-piece nursery furniture set, and most apartments these days have at least one.
Our best Pali nursery furniture sets are now on sale, and you can choose one for your baby's room. There are a couple of two-piece Westwood sets of baby furniture available, which will work wonderfully for your small space as well.
Rug Up with Something Vibrant
While bold walls might amplify the feeling of a cramped room, they shouldn't be avoided entirely. If your nursery is on the smaller side, a vibrant area rug can help define the space without overwhelming the room with too many decorative elements.
Organize Your Storage
When dealing with a limited footprint in a nursery, it's imperative that you prioritize ample storage space. They are ideal for concealing and organizing baby supplies, including diapers and wipes, clothes, books, and nursery accessories.
In our shop, we have a Babyletto Bento 3-in-1 Convertible Storage Crib for less than $500, with free shipping. In addition to transforming from a crib to a toddler bed, this versatile piece of furniture features two spacious drawers with cleverly concealed drawer closures, perfect for stowing away bedding essentials and other nighttime necessities.
Going vertical is also an option. In a small nursery, floor space is at a premium due to the room's compact dimensions.
Achieve the Sense of Depth and Scale
Last but not least, there are measures you may take to make a room appear larger than it actually is. Getting rid of unnecessary items can also serve to immediately enlarge the space.
Using a monochromatic color scheme, mirrors, layered lighting, and smart window dressing are all simple methods to give the illusion of greater room in a compact setting. In particular, when dealing with constraints on square footage, the choice of paint color may have a dramatic impact.
Pastels, whites, and neutral shades are some of the best paint colors for making a small space appear larger. Stripes and other accent colors and patterns can also be used to visually expand a small nursery.
Bring The Light In
One last piece of advice for those who have tiny nurseries is to let in as much natural light as they can. Although artificial lighting is provided, natural light greatly improves the ambiance of a room; therefore, windows should not be obscured.
In order to maintain your privacy, choose blinds that can be quickly raised to let the daylight flow through while being entirely opaque when privacy is required.
Bonus Round
If you're shopping for nursery furniture items, it's best to get a set rather than pick out individual pieces so that everything matches and you can easily compare prices and features.
The most comprehensive choice is a three-piece set consisting of a crib, dresser, and changing table. However, a two-piece set consisting of only the crib and dresser with a changing pad may be more appropriate for your situation.
Things like a detachable changing pad, a crib mattress that can be raised or lowered, and storage space beneath the mattress should all be taken into consideration.
Choose a piece of nursery furniture set with clean lines for a more minimalist look.
Creating a comfortable and functional nursery in a city home is no easy task. If one really wants to do anything, though, one will find a way to achieve it.
See the featured nursery sets here on the blog, or visit KidsNCribs.com to browse our extensive selection of nursery furniture and other accessories.